1975 MC8  Bus Conversion for Sale
Bus is a 1975 MC8  Greyhound bus conversion with a  Detroit 8V71 diesel engine that was recently overhauled.  The conversion was done in Sep 1999.  But it is in very good condition.  
The walls, ceiling, and all cabinets are ¾ inch birch plywood.  No particle board in the coach.
Heated tile floor in kitchen and bathroom. 
​
We have retired and are building a house in Cottonwood AZ.  Will be available around 1st of March.  You really need to see it.  Asking $35,000.  Contact Jac Colon:  jac@revelation-now.com
Hover mouse over any thumbnail to pause slideshow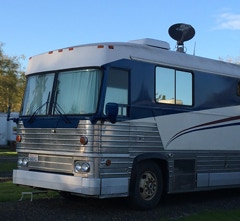 ◆

Mileage.  It was a Greyhound, so we really don't know.  Dealer told me 3-5 million miles.  

◆

Replaced the engine 2 years ago.  Don't know how many miles on the overhaul but several mechanics who Dyno tested it and looked inside said it was very clean and recent.  Runs very well and starts up almost instantly.

◆

8000 Watt Kubota Diesel gen, 968 hrs on hobb meter.  

◆

3000 Watt Trace inverter and 4 Golf Cart batteries.

◆

Fresh water, 100 gal, under the bed so all plumbing except holding tanks are inside the coach.  Won't freeze.  

◆

One 100 gallon tank for both Sewer and Gray water in the rear luggage bay. 

◆

Has a bypass for gray water that can drain it off with out filling the tank when possible.
Extras
◆

Kitchen counter top, table, desk, bookcase, bathroom lavatory top and bedroom end tables are all solid surface Wilson Art.

◆

Kitchen sink is molded into the counter top.

◆

Heated tile floor in kitchen and bathroom.

◆

Fridge is large side by side dometic gas/elect.

◆

Garden tub/ shower combo.  

◆

SeaLand Travler china toilet bowl

◆

Washer/ dryer.    

◆

31" flat screen Visio TV in the front left.

◆

Ready for Dish Satelite with an automatic Winegard satellite antenna.

◆

Two low profile Duotherm Air conditioners

.

◆

Roof was raised to provide lots of head room.

◆

Stereo with speakers in the front and the bedroom

◆

JVC Tuner/ Amp and

Yamaha

CD player